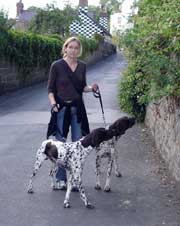 About Mum (a.k.a Clare)
Hi, I am a 33 year old first time mum,who likes to be prepared for every eventuality.
I am an accountant by trade but am broadening my horizons by learning computer programming and design skills from Alex.
I enjoy walking our two dogs -Henry and Harvey, (German Short Haired Pointers),playing the piano, listening to Alex play his guitar and on a cold winters day lying in front of a roaring fire.
I love being a mum even though it is still very new and definately want more kids. I like to have structure and routines and have all the latest baby items available. (I just like to be prepared.)
On this website I want to share our trials and tribulations and also publish any new tips and advice that I have found useful along the way.
I hope you find our site useful, interesting and entertaining, please leave comments to our articles as we would love to hear from you.